who we are
Ours is an American story common to the history of many families of our great nation.
We're inspired by the character, vision and courage of our parents who chose selflessly to sell everything they owned and moved our entire family of seven to The United States in hopes of a better life and future. As fate would have it, our father passed three years following our arrival in America leaving our young mother to tend to our family. Our mother never remarried and raised her children with the sheer strength of her character - tending to our needs and teaching us life's valuable lessons. We grew up in the Delaware Valley, worked our way through junior and senior high school and college, graduating from Penn State University. In 1990, we realized our dream by starting The Blake Insurance Agency, Inc. in Newtown Square, Pennsylvania.
We honor our parents' great sacrifice and love by attempting to reach our potential and endeavor to realize the promise of our great land. We aspire to live by, form relationships, and operate our business by the timeless values our parents taught us, not by their words, but by their deeds. Namely:
Integrity
Loyalty
Respect
Commitment
Diligence
Economy
Passion for one's chosen profession
Our parents inspire us....and our children motive us.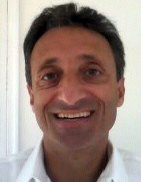 Principals: Khaj Panossian (pictured) and Sev Panossian
professionally
We believe in our product and could have experienced the benefits it can provide. If our father had purchased a simple term life insurance policy just to pay off mom's mortgage, our mother's life would have been a little easier raising her children.
Therefore, we strive to educate, advise and consult our clients on the concept of insurance and how a variety of insurance products can protect their assets, if they so choose.
Our goal is to build close, trusting, consultative relationships earning the right to become our clients' business advisors - managing their risk as it relates to operating their business and protecting their business and personal assets.
We are independent insurance agents, brokers and consultants, licensed in PA, NJ, DE and FL, representing numerous national and regional carriers, and can be the one source for all your business, personal and benefits insurance needs.
why we do what we do
Please read the section "Who We Are." This will give you a sense of 'why we do what we do.' Our personal life experience has solidified our belief in the concept of "Insuring or Insurance". It gives us great satisfaction to know that one's life may be less burdened because of the products and services we offer.
There is a universal human need to feel safe and protected with some form of guarantee that our life's efforts will not be in vain or be destroyed by some unforeseen event. We realize this basic human need has evolved into a business. Nonetheless, insurance products for hundreds of years have delivered in satisfying our universal need for security. For literally "pennies on the dollar" you can protect your business and family from some unfortunate, unforeseen event. We at The Blake Agency, Inc. strive to listen to your needs and in a cost efficient manner attempt to find solutions that are specific to your perspective. Call us!